How to Give the Outside of Your Home a Spring Refresh with LED Strip Lights
Spring has sprung! It's lighter out later; the weather is getting warmer; flower buds are beginning to burst; and for some of us, pollen counts become a daily trending topic (bless you!) For many, Spring brings on thoughts of home clean-up and taking care of home improvement to-dos. If you're considering ways to spruce up your homestead, consider the following six ways HitLights outdoor LED strip lights can be just the thing to get your house looking its best to celebrate the season.
Before we get into the projects, let's talk about outdoor LED strip lights. If you are skeptical about LED strips performing in the great outdoors, we'd like to calm your fears with two factors: waterproofing and outdoor ready mounting tape.
Are LED Strip Lights Waterproof?
When it comes to waterproofing, not all outdoor LED strip lights are created alike! When shopping for LED strip lights for outside, be sure to look for light strips graded for outdoor use and with an IP rating of at least 44. For example, one of our customers' favorite outdoor LED strip lights have an IP rating of 67, making it entirely suitable for your use outside.
When selecting your LED strip lights, always double check the rating to make sure you are considering the right kinds of LED strip lights before you make your pick, or if you are speaking with a HitLights rep, make sure they know you plan to use the lights outside.
After you've picked the right lights, make sure you pick the right mounting tape. What good are the strip lights if they fall down or droop or peel away with a case of soggy tape? Outdoor mounting tape must be thicker; more durable; have a premium glue; and offer a more rigorous stick to work for outside. Frankly, if you want to scrimp on tape, you might want to reconsider the outside project all together.
The mounting tape is critical for a successful outdoor project as the tape must not only hold the weight of the strip lights and adhere to your selected mounting surface, but it must brave the elements and perform under conditions that simply don't exist inside. We're proud to offer a waterproof double-sided mounting tape from 3M that pair perfectly with our outdoor lights. This combo will allow you to tackle any outdoor project you want to accomplish in your yard. Speaking of the projects, let's get into our six for Spring outdoor LED strip light projects to freshen up your home's outside.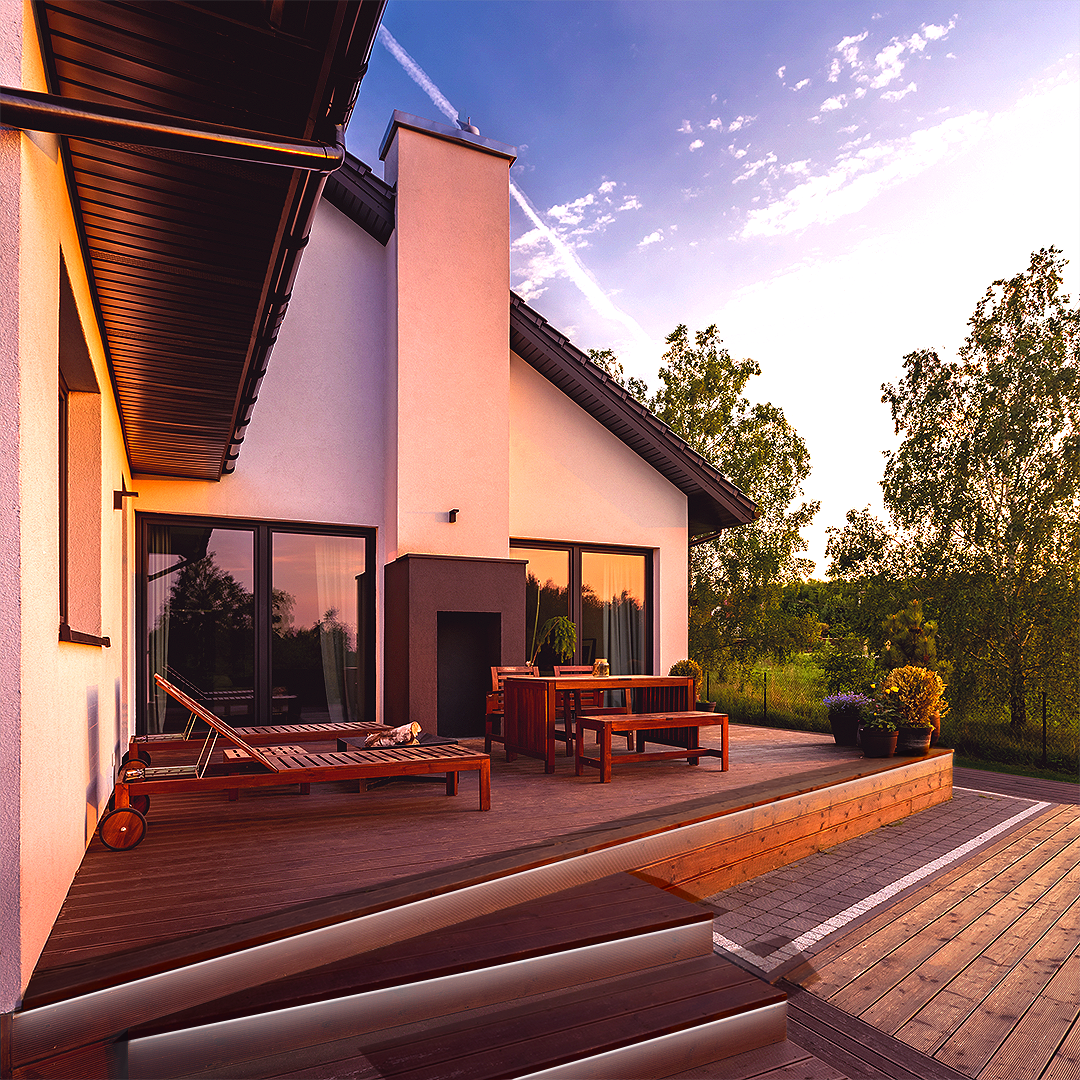 1. Perk Up Your Patio
Does your patio have any kind of cover or gazebo? Imagine the warm evenings sitting with friends outside, the conversation is getting really good, and you don't want the night to end. Imagine sitting under subtle strips that line the edges of the patio covering, providing you the ambiance for the evening. Choose lights that have a range of output like our Premium Luma5 LED Light Strip which are waterproof and high-density (meaning more light diodes per inch.) These outdoor LED strip lights are ready to connect with a dimmable driver, allowing you to go from full brightness (lighting up your whole patio area) all the way to dimming low to create a mood. You'll love your patio even more after adding a light feature as unique as LED strip lighting.
2. Illuminate Your Outdoor Kitchen & Bar
Outdoor kitchens are all the rage. In the same way that LED strip lights are popular for kitchens inside, your outdoor cooking area is practically begging for some energetic and exciting LED strip lighting. Even if you have a simple set-up, you can give the feel of a built-in kitchen with the right lights. Seating bars or counters welcome under counter LED strip lights. Outdoor mini-fridges get a cool makeover with LED light backlighting. Any backsplash can be lined with lights. You can even mark off the kitchen area with LED strip lights to demarcate the cooking zone.
To try out another LED lighting addition, add a string of Edison-style LED bulb lights above your outdoor kitchen or other seating area. This popular accent lighting is "in" for a reason. String LED lights bring a sense of charm and provide a source of night lighting all in one. If you're concerned about having your outdoor string lights looking like every other string light on the block, explore different bulb sizes and shapes. There is variety out there to set your backyard oasis apart.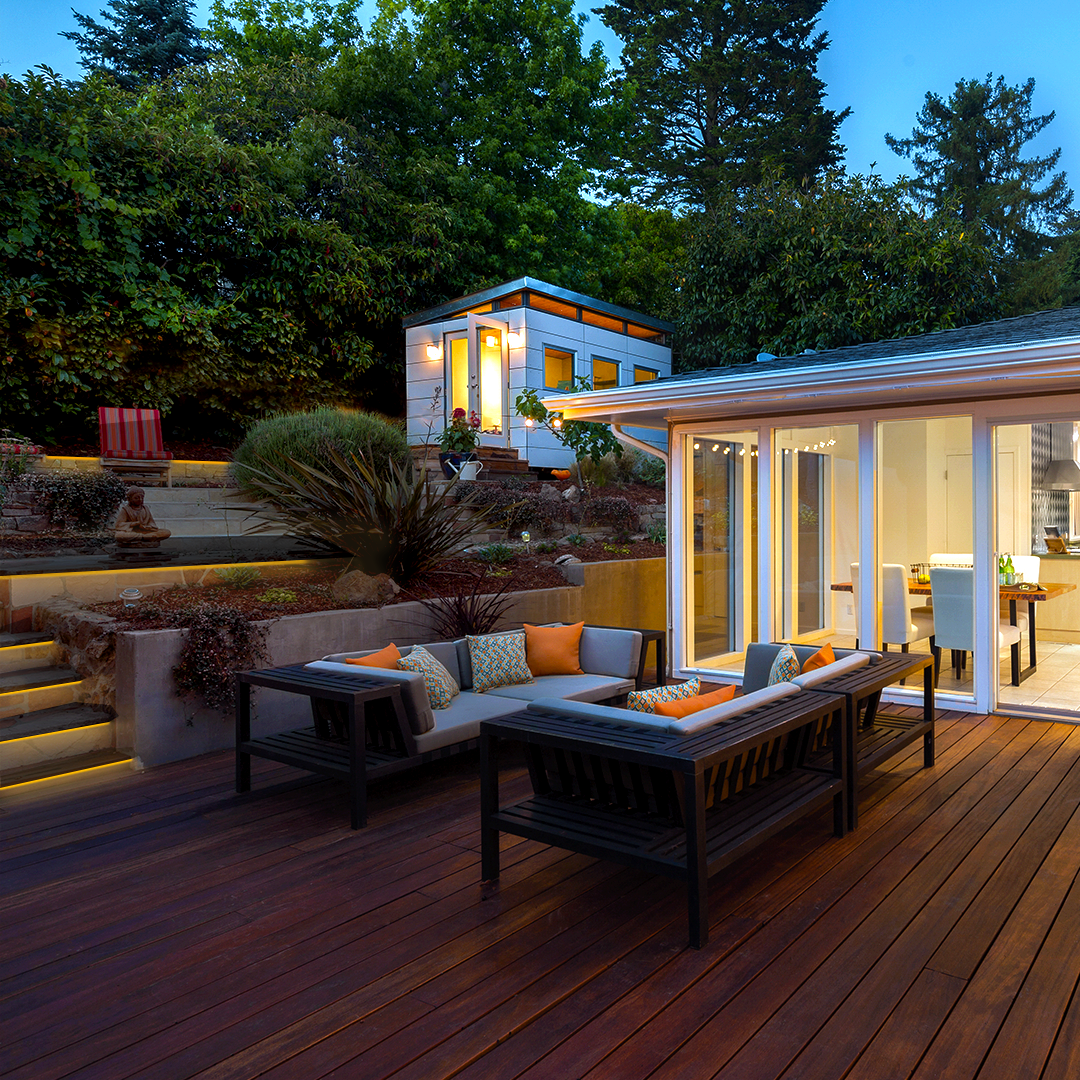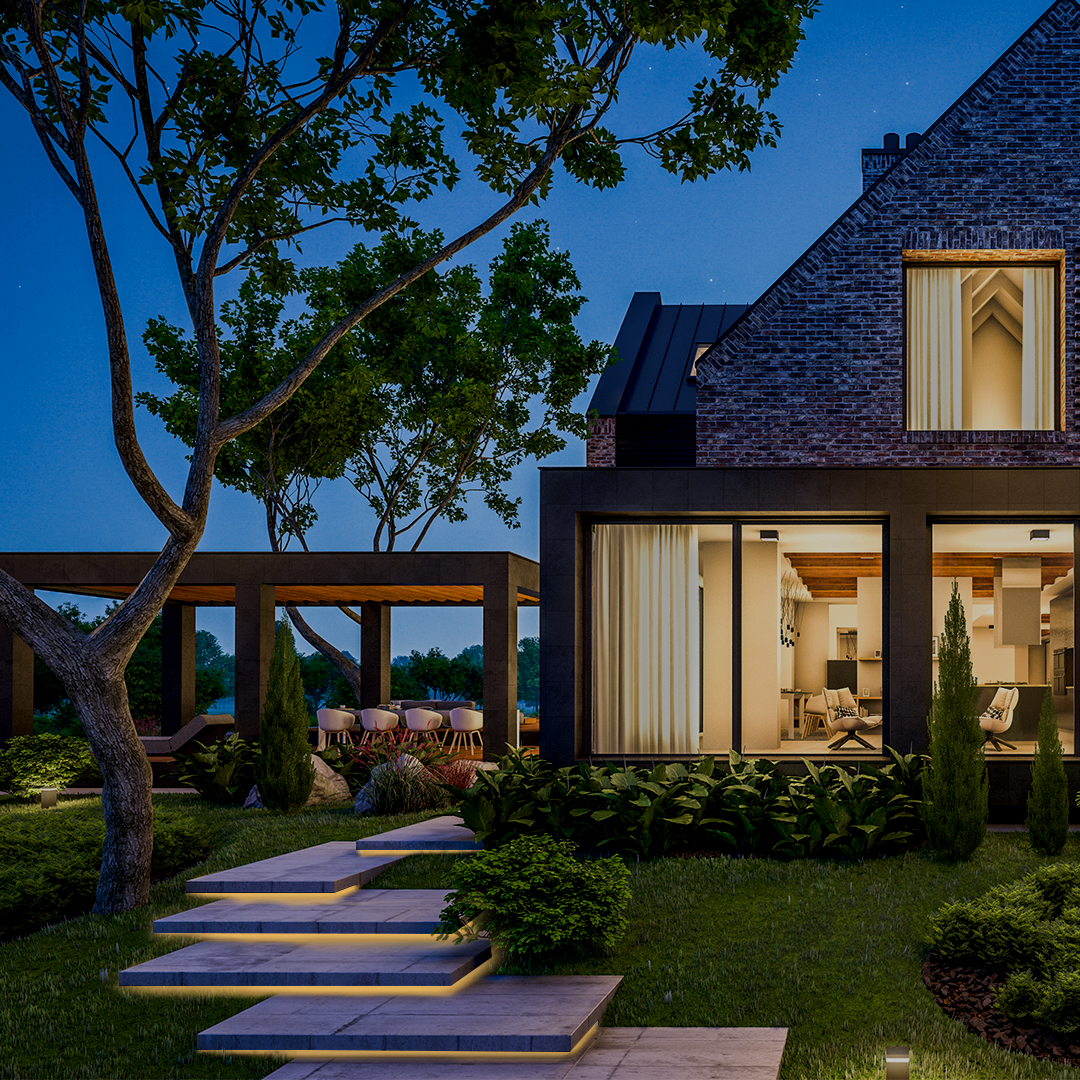 3. Edge Your Deck with Gorgeous Light
Nothing gives a deck a modern glow than lining the edges with outdoor LED strip lights. Consider a couple options: run LED strip lights along the handrail or along the edge of the decking itself or both levels! Three different options. Or for a change of pace, what about running vertical lights along the handrail supports? Vertical lighting could give a unique look that conveys contemporary style to your outdoor living area.
4. Glam Entryway Lighting
There's nothing better than showing off the front of your home than with strategic lighting. Your entryway is the focal point for the street and the "welcome zone" for visitors. One of the reasons realtors tell sellers to paint their front doors is because the home's entryway conveys first impressions. Outlining a door overhang with outdoor LED strip lights is a quick and relatively easy way to transform your entryway in minutes (and for relatively low cost.)
Does your home have a full portico? The same technique can be used. One of the best qualities of LED strip lighting is that whether the space you are working with is small or large, you can count on LED strip lights to create a unique look. LED strip light fans love to cut LED strip lights to size (and love to tell you about getting perfect, just right fit for their cut strip lights—but that's another story for another time.)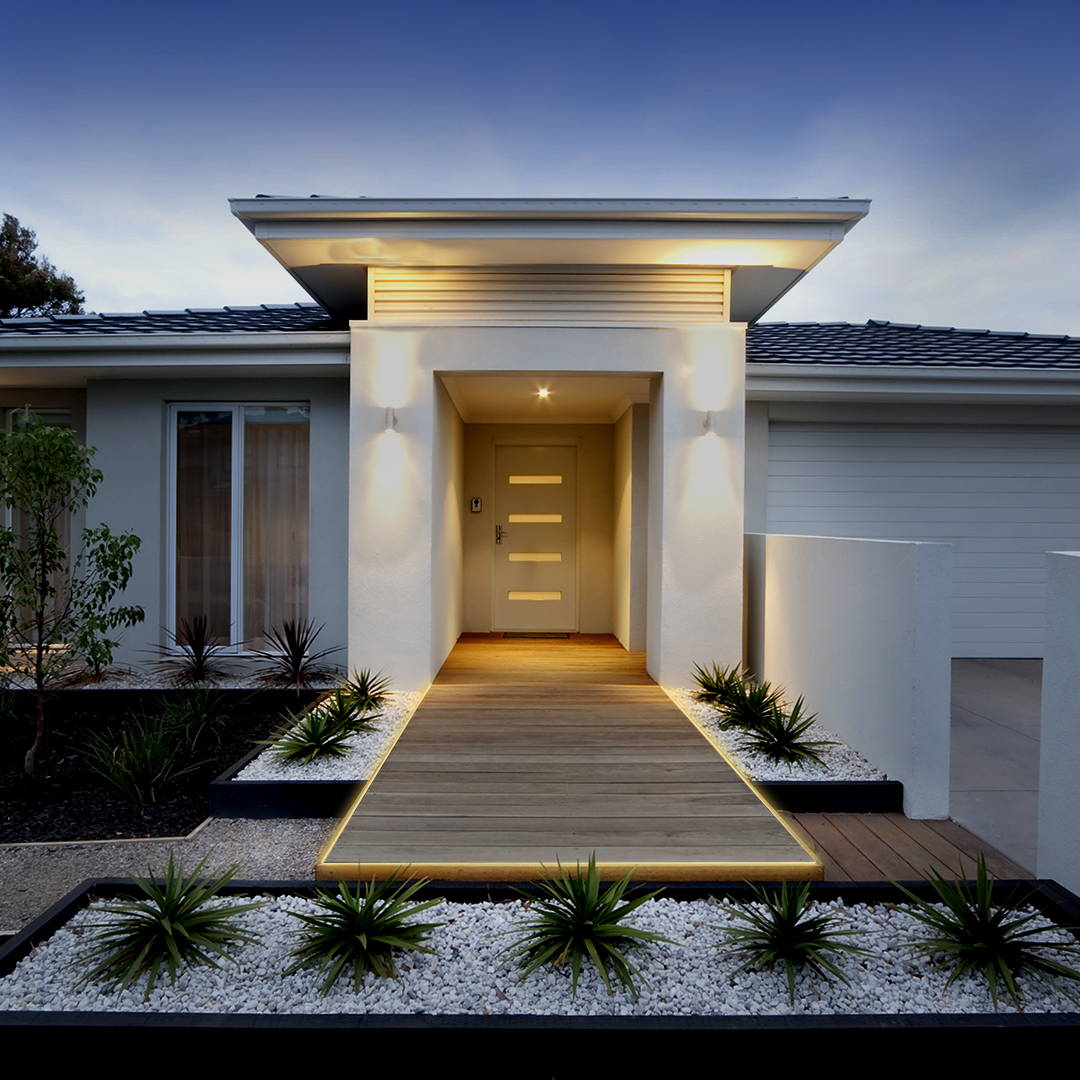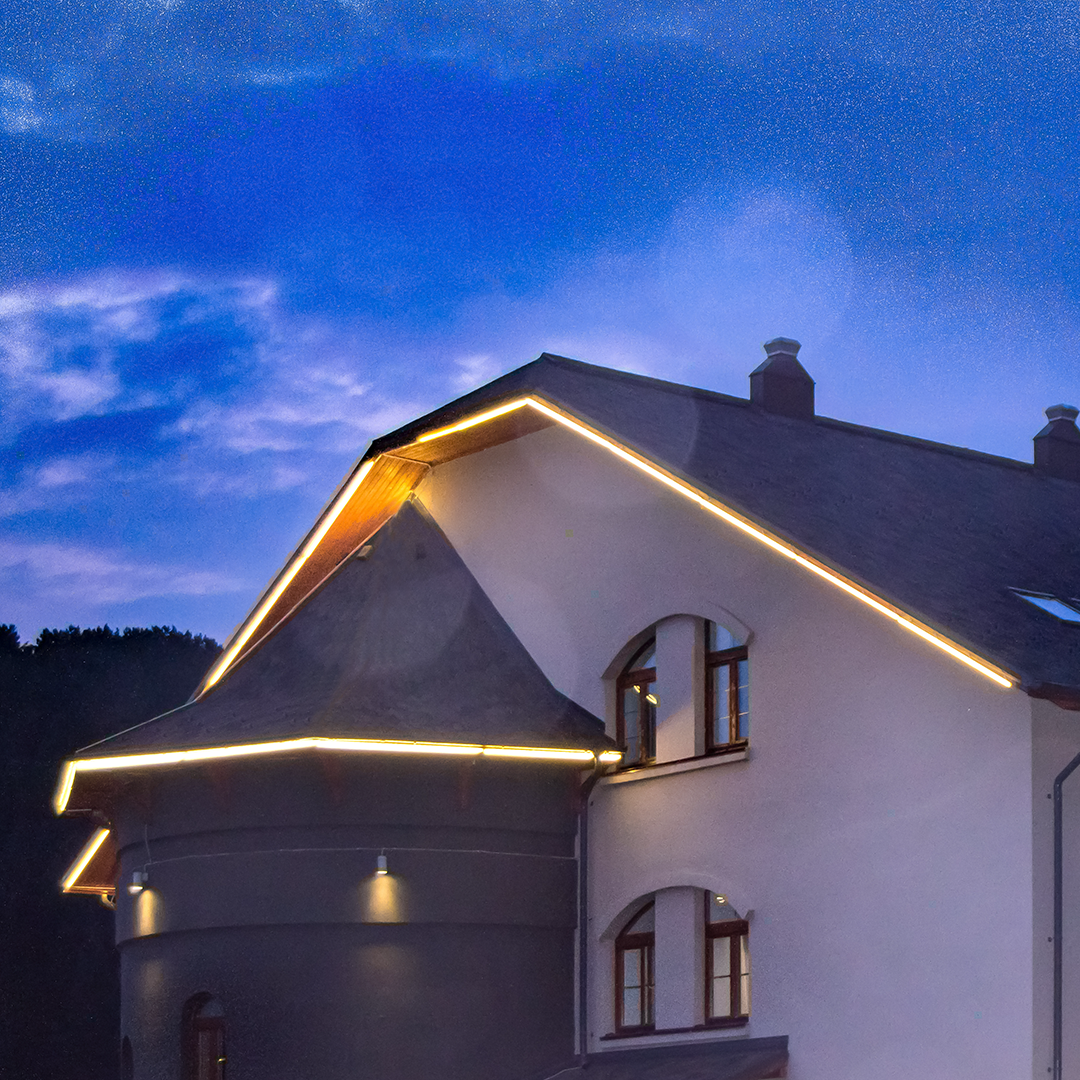 5. Gables & Eaves
Are you all in on outdoor LED strip lights? Run outdoor LED strip lights along your gables and eaves for a full house outline. Now, this project might take a weekend to complete but it will give you a whole new look to your home from a few hours of work. This is one of our favorite improvements because of the dramatic transformation whole-house LED strip lights create.
Some people consider soffit lighting for security purposes, but it can be attractive, too. If you choose outdoor LED strip lights like our Premium Luma5 LED Light Strip, you'll get the benefit of high density lights (more diodes per inch) while also being dimmable. If your home has rain gutters that run the edge of the house, those can also be the base for outdoor LED strip lights.

6. Line Outdoor Steps
Lighting outside steps is both attractive and practical. Outdoor LED strip lights on outdoor stairs can accentuate elevation; lights on stairs draw the eyes upward (kind of like a spotlight effect on your house or wherever the stairs are leading.) Applying outdoor LED strip lights along the stair tread—either the full length of the tread or one to two thirds, experiment to see what looks best—brings near instant illumination to your steps.
The practical side of these stair lights is important, too! No one wants to have a tumble on the stairs coming or going from your home. Lighting up your stairs is a safety boost, too. One of the most common accidents is tripping on stairs. Logically, being at a home that is not your own makes a flight of unfamiliar stairs extra daunting. Simple lights can take the fear out of this element of your landscaping, and look great on top of it all!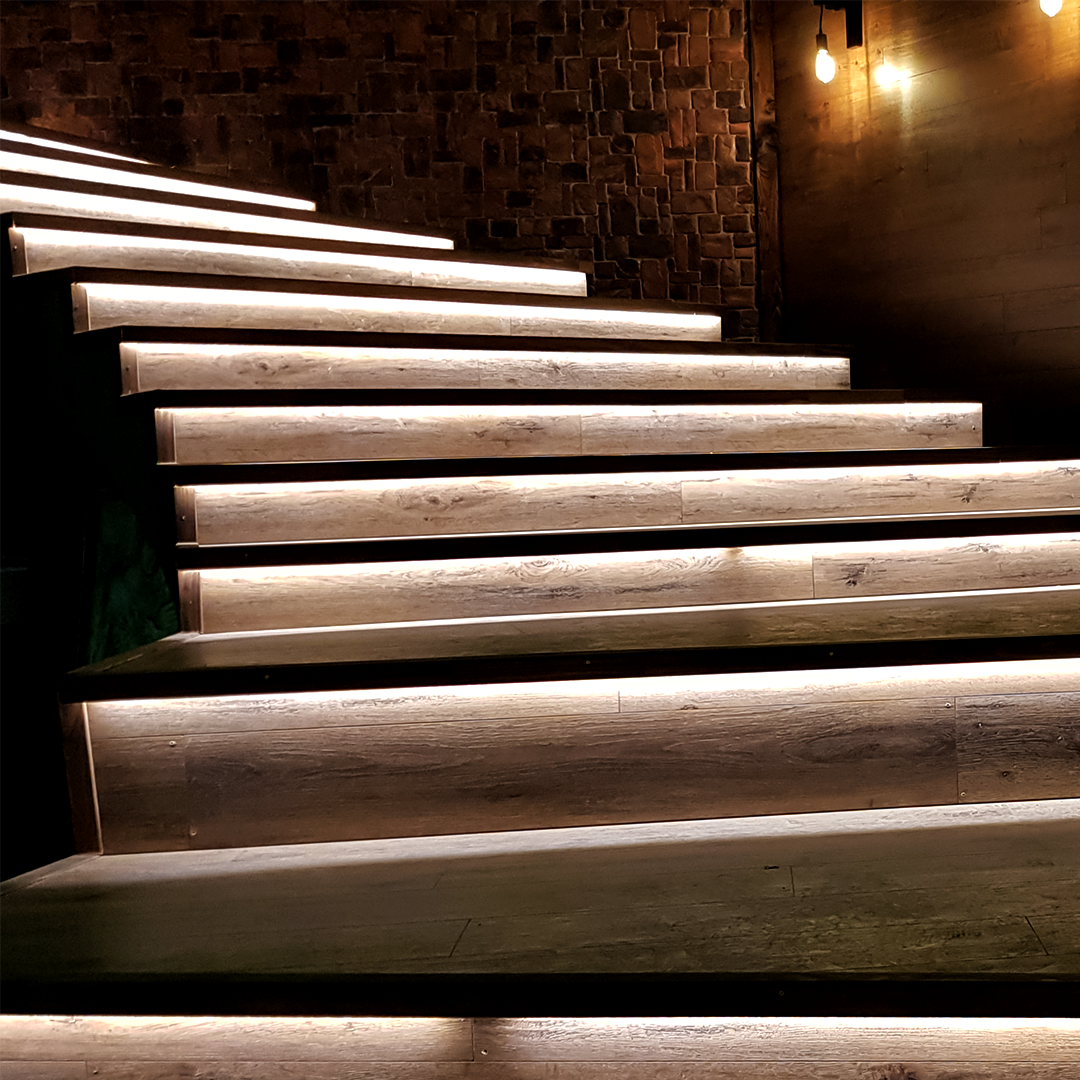 Which of these six Spring-perfect projects strikes your fancy? Try one or all of them on your home. If you want an extra set of eyes on your project, you are welcome to reach out to one of our dedicated HitLights team. We focus on knowledge for our crew, so we're ready to help you get your house looking its best for Spring. (Please note, we may ask you for before and after pics! We love LED transformations as much as you do!)
Don't forget to check out our outdoor mounting tape. Trust us when we say that the mounting tape is key for any outside LED strip lighting projects. We stand behind our products like the mounting tape allowing you to shop confidently.
We're ready when you are to get started. Browse our website to check out our products or make the call to our tam and start the conversation. Call us today at 1 (855) 768-4135. Spring into all the best of the season with HitLights.